CASA MULDER
Wheelchair accessible holiday villa Spain
Costa Blanca, San Fulgencio La Marina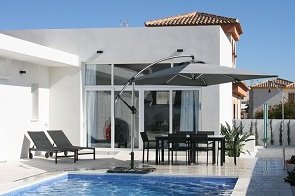 Casa Mulder
In San Fulgencio la Marina Spain you will find our 6 person holiday villa with a modern design. Fully furnished with air conditioning, 3 bedrooms, 2 bathrooms, kitchen, satellite TV, DVD player and Playstation. Large garden with terrace and private pool. The property is located 30 minutes from the airport and is located near several towns such as Benidorm, Alicante, Elche and Torrevieja. Only 8 min from the beach. (by Car) In the summermonths there is also a bus service provided between San Fulgencio and the beaches of La Marina. To fully benefit from the Alicante region a (rental)car is recommended. The villa is especially suitable for disabled and wheelchair users, without a hospital atmosphere, but can of course be used by anyone.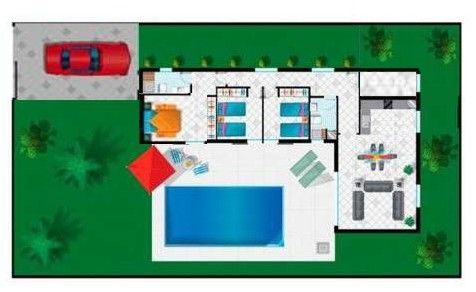 Layout
Livingroom
Modernly decorated room with lots of light and a large open front adjacent to the pool. A spacious comfortable living room with a 2.5 seater sofa, 2 club armchairs, an electrically adjustable stand-up armchair and a nice modern 6 person dining area. The villa is equipped with a natural stone floor, barrier-free.
Bedrooms
3 bedrooms; the master bedroom is equipped with two high-to-low beds with care mattress and a handy-move ceiling hoist for disabled. The 2nd and 3rd bedroom have 2 single beds with memory foam mattresses. In all rooms is enough cupboard space. Nursery furniture (cot, mattress & changing table)is available.
Bathrooms
2 bathrooms. Main bathroom fully adapted for wheelchair users.
Kitchen
A fully equipped kitchen with all modern appliances. Senseo coffee maker and gourmet set available. Filtration system for drinking water available.
Swimming pool and garden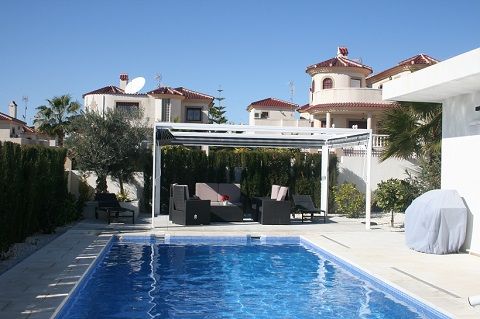 The pool is located at the south with the sun on it all day. You can jump into the pool from all bedrooms. The living room is adjacent to the pool through a large open front with an extra outdoor shower, a large garden with a terrace and palm and citrus trees. The driveway to the house is separated by means of an electric gate, this can be opened by an automatic distance control. P>
About us
Bert & Helma Mulder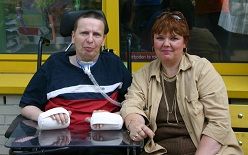 About us
We are Bert and Helma Mulder.
Married since 19 december 1985.
We have 3 adult children and live in Houten in Holland (12 km from Utrecht).
In July 2006, Bert suffered a incomplete spinal cord injury due to a thrombosis at C2 hight.
As a result, Bert is bound to a wheelchair with a Vivo 50 breathing machine. Helma is taking on most of the care.
In 2011, we sold our own business and we got the opportunity to get some more vacations. We noticed that there are only a few genuine adapted holiday homes available, and certainly not abroad.
Especially for people with severe disabilities it is very difficult to find a adapted holiday address, for a more or less independently vacation. Many people told us that they have not been on holiday for many years.
Due to the fact that a vacation to a sunny spot brings so much problems we have built our own fully adapted villa in San Fulgencio. The Costa Blanca has the best weather in Europe and the healthiest climate of the Mediterranean.
As you can see on the site we managed to realize a fully adapted holiday home. We are very happy with it, it looks very nice! This villa is adapted for wheelchair users. The bathroom has a spacious walk-in shower with disabled toilet and a wheelchair accessible washbasin.
The doors are wider than standard: min 90 cm. There are no barriers inside and there is a ramp at the front door and to the garden.
In the master bedroom is a ceiling lift availible. In addition, there are also three different shower chairs.
Kind regards,
Bert & Helma Mulder